Are you wondering what kind of event to hold for year-end and New Year's party, New Year's party, Christmas party, children's party, or corporate gathering event?
Speaking of surely the excitement that is sure to swell! It is a magic show.
Adults make the party lively with magic.
For children, select only good magic to see.
We will deliver a magical magic show that is a bit different from the others!
table of contents
Magician, magic show business trip, dispatch
Information on magician business trips, dispatch of magicians, and magic shows. Full-time professional magicians will travel and dispatch from Tokyo to all over Japan.
The fun and mysterious magic of party entertainment and events.
Price
This is the basic fee for calling a magician to an event.
The basic fee starts from 20,000 yen for 30 minutes including transportation expenses in Tokyo.
For children and home parties, the fee is the same and up to 60 minutes.
Actual rates will vary depending on the number of customers and actual workload.
Estimated number of people Small (S): 10, Medium (M): 50, Large (L): 100
Others vary depending on the size and content of the venue.
Comparison with market
It is a comparison with the same level of magician business trip and dispatch.
General freelance magician 30,000-80,000 About 30% off!
50,000-100,000 via a temporary agency About 50% off!
Famous magician 100,000 yen ~ About 80% off!
It seems that it is not so much that it supports a 60-minute show for children and home parties.
* It is just a magician's personal feeling.
Close-up magic
It is a magic with a strong impact to be seen nearby .
For such an event
Birthday party for children
Home party
Family anniversary
Gatherings and girls' associations with friends
Work and vocational gatherings
Estimated price 20,000 to 30,000 yen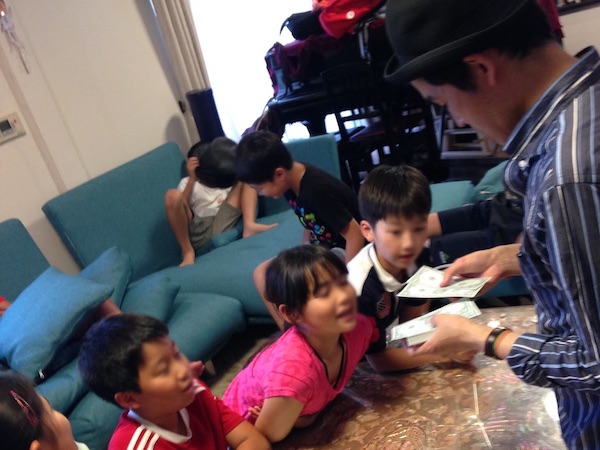 Cheap plan
There is also a cheap improvised close-up magic from 12,000 yen, which starts accepting from one week ago . Please contact us for details.
Party Magic / Standup Magic
We will send you fun magical parties .
For such an event
Children's association
For elderly people such as Keirokai
Halloween party
Year-end party
New Year's party
Christmas party
Kindergarten preschool elementary school events
Internal events
Customer Attraction Event
Price estimate Small: 20,000-30,000 yen / Medium: 20,000-40,000 yen / Large: 25,000-60,000 yen
Magic for children
We will carefully select and deliver fun and high quality magic.
Estimated price ~ 60 minutes 20,000 yen ~ 35,000 yen
We respond to the 60-minute length requested by customers with a basic fee.
Halloween Parties
It feels like it's completely rooted in Japanese autumn events, but the fun atmosphere of Halloween and the magic show go very well together.
It is gaining popularity every year in various places, such as classroom events for children and adult party parties in disguise.
Christmas party, year-end party, new year party
In December, the year-end and New Year holidays, we will send you a magical excitement for the new year's event. Enjoy a fun and mysterious magic!
Estimated price 30 minutes ~ 20,000 yen ~
Table hopping / strolling magic
We perform magic around tables and customers in a friendly and casual manner.
We will excite with a powerful magic in a short time . It is a highlight of professional skills.
For such an event
Events at restaurants, bars and restaurants
Party in hotel banquet hall
Wedding entertainment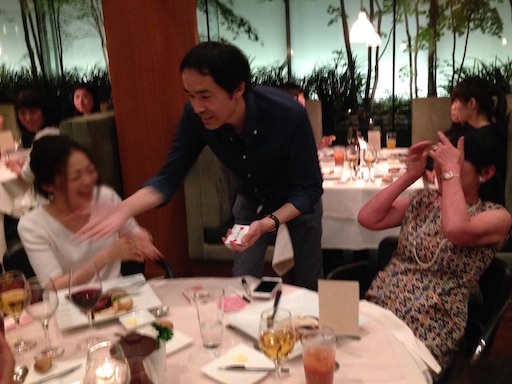 Party magic + table hopping
We'll start with a stand-up magic show in front of our customers, then turn around the table and re-energize them with nearby high- impact magic.
Party in hotel banquet hall
Wedding, reception, wedding, second party
Table magic (seated)
Table magic around the table.
This style is especially recommended for those who like magic because magicians can demonstrate their abilities .
The show can be from 30 minutes to a maximum of 2 hours.
Estimated price 20,000 yen ~ 1 person 3,000 yen ~ 6,000 yen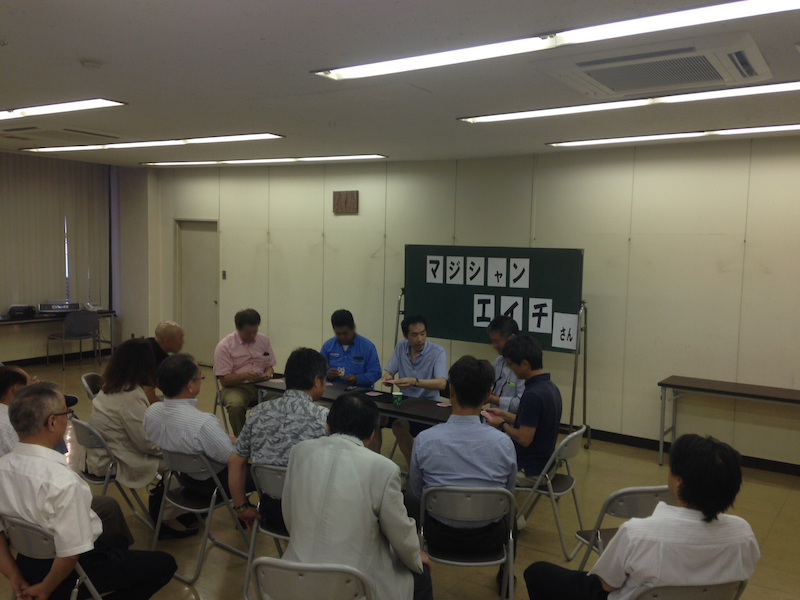 Stage Magic / Street / Street Magic
A magic show on stage that can be viewed by a large number of people at once .
Street performances and street performances for outdoor events
Corporate events, customer gathering events
Local festivals
National and local government events
Estimated price 30 minutes 25,000 yen ~
Magician
H (Eichi) is a full-time professional magician living in Tokyo.
Adult customers can freely manipulate and deceive using secret psychological techniques.
30 years have passed since my magic career began. I'm still studying everyday for good tricks and interesting magic.
This is my seventh year as a complete professional magician.
I'm a little-known magician so I can't say anything big, but I would like to be able to deliver the best magic show that is second to none .
Hire Magician in Tokyo Japan | English
Magician H (Hiroshi Tsuchiya) is a Full-Time Professional Magician.
Prices and Costs
Small Party (House Party , Birthday Party) / 20,000yen ~ 30,000 yen
Medium Party (Private Party , Restaurant Party , Kids Show) / 20,000yen ~ 40,000 yen
Large Party (Corporate , Wedding , Hotel banquet room) / 25,000 yen ~ 60,000 yen
*vary from situation
*Added Transportation Fee
Typical Duration
Party : ~30 min / House Party , Children's Party : 30~60 min / Table hopping 60 min Or more
Mail : ht@hiroshitsuchiya.com
What is the reputation of the magic show?
Magic show at birthday party
Dear Magician H,
Thank you very much for the nice magic show.
You did a great job.
Again, thank you very much!
Best regards,
Magic show at Keirokai entertainment
Thank you very much for enjoying the wonderful magic. It was very
popular with the participants
.
Thank you very much for today
Magic show at the Resident's Celebration Celebration hosted by the residents' association
This is the e-mail received from the customer on the day.
Thank you very much for today.
When I saw the expression of the participants change, I realized, "I did it!
I'm really thankful to you.
Magic show at children's event
Thank you for your trouble. It was good because the children seemed to be having fun. Also, if you have the opportunity, thank you.
Quote / Travel Request / Contact
Please call to e-mail or mobile phone.
▼ If you request a quote, please provide the following information.
name
event name
Date / Start time / Length
Venue address, nearest station (approximately, you will need it to calculate transportation expenses)
Venue type (home, restaurant, hotel banquet hall, etc.)
Maximum number of spectators (children only for children)
If you have a budget
If you want a magic show
When the receipt address is "Corporate"
Particularly formal
If you have any other necessary information
Mail: ht@hiroshitsuchiya.com
iPhone: 09022057991
Magic show day
Arrive at the venue 30 minutes to 1 hour before.
We will show you the venue and have a simple meeting with the customer.
Get ready. You don't need to have a waiting room.
Magic show
After finishing, it will take about 15 minutes to clean up and say hello before returning.
Information on Main Japanese Site
This is Magician Eichi's second site. It is described more compactly and easily than the main site. If you have any information missing here, please also visit the main site.